Rudd sworn in as Australia's new Prime Minister


---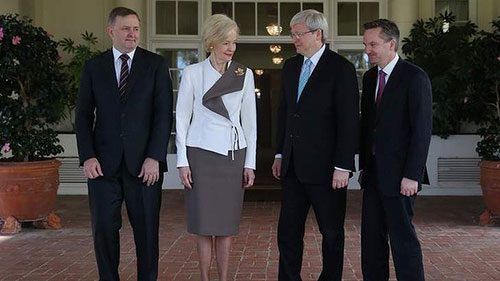 Deputy Prime Minister Anthony Albanese, Governor-General Quentin Bryce,
Prime Minister Kevin Rudd and Treasurer Chris Bowen at Government House
on Thursday morning. Photo: Photo: Andrew Meares/Fairfax Media
Thursday June 27 2013
Kevin Rudd has been sworn in as Prime Minister by the Governor-General of Australia, replacing Julia Gillard who took over from him in 2010.
In a Labor leadership spill on Wednesday evening, Mr Rudd defeated Ms Gillard 57 votes to 45, paving the way for his return to the prime ministership.
Ms Gillard offered her resignation to Governor-General Quentin Bryce and recommended Mr Rudd be reinstated as Prime Minister. Ms Gillard has stated she will not participate in the next election.
The leadership spill has resulted in cabinet changes, with Ms Gillard's Transport Minister Anthony Albanese sworn in as Mr Rudd's deputy, while former Immigration Minister Chris Bowen was appointed Treasurer.
Mr Rudd will lead the Labor party into the Federal Elections scheduled for September 14 2013.
Further coverage is available at http://www.abc.net.au/.