Coronavirus (COVID-19) Information
This site is regulary updated with information for Australians living in
Singapore. Please click here for details on COVID-19 including information for
Australians looking to return to Australia.

If you are in need of urgent consular assistance, please refer to the consular
information here
Queensland State Election
There are no ways to vote in the Queensland State Election at the Australian High Commission, Singapore.
Queensland's 2020 general election voting period is from 19 October to election day - Saturday 31 October. Overseas electors are eligible to telephone vote or can apply for a postal vote by Friday 16 October.
Queensland electors can check their enrolment at https://check.aec.gov.au/. Those that are enrolled to vote in Queensland and are overseas for the election are eligible to telephone vote. Voters will need to register to vote and verify their identity, and then call a separate phone line to cast their vote. International call charges will apply.
The Electoral Commission Queensland (ECQ) Telephone Voting for Overseas Electors Fact Sheet provides detailed instructions, including opening hours for the telephone lines. Registering for a telephone vote from overseas is available from 8am Monday 19 October to 12pm Saturday 31 October (AEST).
Alternately, electors can apply for a postal vote until Friday 16 October. Postal votes can only be sent to electors following the close of candidate nominations in mid-October. The ECQ asks electors to vote, sign, witness and return their ballot materials as soon as possible after receiving them, noting votes received after 10 November cannot be included in the count.
If circumstances make it impossible to vote in the election, or postal votes do not arrive by 6pm on election day Saturday 31 October, electors can email [email protected] and provide reasons.
For general information on the election, please visit https://www.ecq.qld.gov.au/elections/election-events/2020-state-general-election. Or contact the ECQ directly: Ph 1300 881 665 or email [email protected]
ACT Election
There are no ways to vote in the ACT Election at the Australian High Commission, Singapore.
Voting is available to all ACT electors from 28 September through to 17 October 2020. For electors overseas during the voting period, an electronic voting service (e-voting) is available.
Overseas e-voting is operational from 9am 28 September to 6pm 17 October (AEDT). Note the application stage of the voting process closes at 4pm on 17 October 2020 (AEDT) and, prior to voting, electors need to verify their identity through an ACT Digital Account. Instructions on establishing an ACT Digital Account and completing the identity verification process are available on the FAQ linked above and the ACT Government Digital Account support page.
While overseas electors may request a postal vote, the ACT Electoral Commission has advised that this is not recommended due to the time required for a postal vote to be sent to an international location, completed on or before 17 October and returned by the cut-off date of 23 October. If ballot papers are to be posted overseas, the ACT Electoral Commission must receive the application by 5pm Friday 9 October (AEDT).
Applications for postal votes can be made online at https://www.elections.act.gov.au/ or by calling the ACT Electoral Commission on + 61 2 6205 0033.
Electors requiring assistance can contact the ACT Electoral Commission ([email protected] or + 61 2 6205 0033).
Welcome
The Australian High Commission is the official representative of the Australian Government in Singapore. We provide a range of services to the general public, including consular, passport, visa and immigration, citizenship and cultural relations services. We also act on behalf of various Australian Government authorities by representing Australia's interests to local, regional and multilateral government and business organisations in Singapore.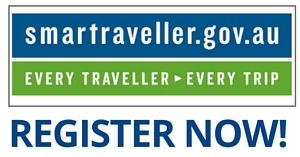 Smartraveller Changes - Re-Subscribe today
Smartraveller has the latest, authoritative travel advice so you can be informed and prepared about overseas travel. Subscribe to receive travel advice updates - by simply supplying your name and email address – straight to your inbox.
You can now also subscribe to the new SMS service - by supplying your mobile number – to receive critical alerts in the event of a crisis overseas.
In a crisis, Smartraveller will activate a crisis page on its website. It will make it easier for you or someone you know to contact the Australian Government if you need help. It will supplement the consular emergency hotline.
Visit www.smartraveller.gov.au to subscribe or connect with Smartraveller on Facebook and Twitter.

Payment in Australian Dollars Only
From Monday 24 August all services at the Australian High Commission will be charged in Australian dollars.
Payment will be accepted by credit card only (Visa, Mastercard and American Express)
Please be aware that you may be charged a foreign transaction fee or currency conversion fee by your credit card provider if your credit card was not issued in Australia.