Media Release: '50 Bridges' – Australia's fun contribution to Singapore's 50th

---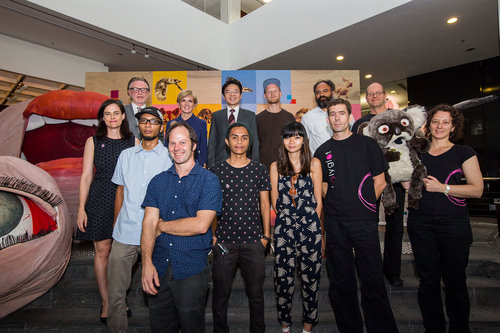 20 May 2015
Australian Foreign Minister Julie Bishop and Minister for Culture, Community and Youth & Second Minister for Communications and Information Lawrence Wong today launched '50 Bridges', Australia's contribution to Singapore's 50th anniversary, which is also the 50th anniversary of Australia-Singapore diplomatic ties.
'50 Bridges' comprises three elements: '50 Walls' - which will bring public art to 50 Singapore heartlands locations; '50 performances' - a program of puppetry performances and film; and '50 BBQs' - 50 simultaneous BBQs, offering a meal of Aussie steak on a special night in June.
Aimed specifically at Singapore's "heartlands", the '50 Bridges' programme is fun, contemporary, and an apt reflection of the modern Australia-Singapore relationship.
A cohort of professional Australian street artists in collaboration with Singaporean artists have already started bringing their artistic talent to walls in hawker centres, HDB blocks, the Kampong Glam enclave and even schools.
Some completed walls can be found at the Circuit Road and East Coast Lagoon eating places, as well as Bras Basah Complex.
Two Australian theatre companies are also entertaining Singaporeans young and old with unique and trendy roving performances in the form of puppetry, surprising unsuspecting Amoy Street Food Centre diners with a lunchtime act, evening shoppers at HDB neighbourhood centre 888 Plaza in Woodlands, as well as commuters at Ang Mo Kio bus interchange.
A short film that tells the story of Pioneer generation Singaporeans through the art of today's young will also be another "performance" to be screened on television.
50 Walls and Performances are taking place through to the end of May. The final ingredient in 50 Bridges – 50 BBQs, will be in June.

All events will be highlighted on the specially commissioned microsite at sg50oz.sg where, courtesy of Jetstar, the prize of a return business class trip to Melbourne awaits one lucky Singaporean.
'50 Bridges' is made possible through the support of major Australian companies represented in Singapore such as Visy, NAB, Treasury Wine Estates, Lend Lease, Telstra, James Cook University Singapore, and the Australian International School. Gabrielle Cummins, who helms Australasian Arts Projects, is the Artistic Director for "50 Bridges".