Pioneer students announced under Government's New Colombo Plan

---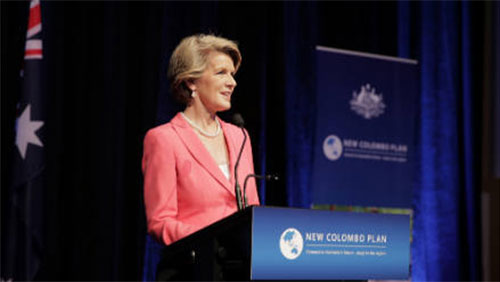 Foreign Minister Julie Bishop at the launch of the New Colombo Plan
Joint media release:
The Hon Julie Bishop MP, Minister for Foreign Affairs
The Hon Christopher Pyne MP, Minister for Education
Senator the Hon Brett Mason, Parliamentary Secretary to the Minister for Foreign Affairs
12 February 2014
More than 300 undergraduate students from 24 universities across Australia will soon set off to study abroad in the Indo-Pacific region under the Australian Government's $100 million New Colombo Plan.
Foreign Minister Julie Bishop, Education Minister Christopher Pyne and Parliamentary Secretary to the Minister for Foreign Affairs Senator Brett Mason today announced 24 universities have been successful in their applications for New Colombo Plan mobility grants to support students commencing study programs in Semester 1, 2014.
Foreign Minister Julie Bishop said the 300 pioneer students will soon be setting off to broaden their knowledge of the Indo-Pacific across four pilot destinations.
"The first band of Australian students travelling abroad under the New Colombo Plan will take up places at universities in Japan, Indonesia, Singapore and Hong Kong," Ms Bishop said.
"The students will undertake study experiences ranging from semester-based and short-term study to teaching practicums, research, field studies and clinical placements.
"Programs being funded span a wide range of academic disciplines from law, health and education, language and culture to science, technology and engineering."
Education Minister Christopher Pyne said that Australian universities have responded enthusiastically to the New Colombo Plan pilot.
"There has been a high level of support for the New Colombo Plan. Universities have assisted with the design of the plan and many applied for the first round of mobility grant funding," Mr Pyne said.
"The practical approach of the New Colombo Plan, encompassing both formal study and internships, will help equip Australian university students with the skills and experience needed to engage with the dynamic Indo-Pacific region."
Senator Mason welcomed the broad range of innovative New Colombo Plan study programs being devised for students by universities during the 2014 pilot phase.
"The New Colombo Plan is designed to deepen Australia's connections with the Indo-Pacific and to bring about a cultural shift by helping to make study in the region the rule and not the exception for Australian students," Senator Mason said.
"In 2014, Australian undergraduate students also have the opportunity to apply for 40 prestigious New Colombo Plan scholarships for longer-term study of up to a year."
The Government has committed $100 million in new funding over five years to implement the New Colombo Plan. The program will be rolled out more broadly across the region from 2015.
To read the press release on the Foreign Minister's website, visit http://www.foreignminister.gov.au/releases/2014/jb_mr_140212.html.