New Colombo Plan to transform relations with the region

---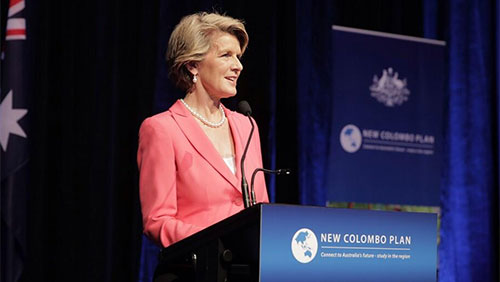 Foreign Minister Julie Bishop at the launch of the New Colombo Plan
Joint media release
The Hon Julie Bishop MP, Minister for Foreign Affairs
The Hon Christopher Pyne MP, Minister for Education
10 December 2013
Today marks the launch of the pilot program for Australia's New Colombo Plan, a signature Australian Government initiative to send undergraduate students to countries across the region to learn, build friendships and strengthen ties with our Indian Ocean Asia-Pacific neighbours.
The Government has committed $100 million in new funding over five years to implement the Plan. The New Colombo Plan Secretariat has been established in the Department of Foreign Affairs and Trade to further develop and implement the new program, working with the Department of Education to deliver the awards.
It is an honour that the Governor General, Her Excellency Quentin Bryce AC CVO, has agreed to be the official Patron of the Plan, in recognition of its potential to bring long-term benefits to Australia and the region.
The New Colombo Plan has already been warmly welcomed within Australia and the region.
For the pilot program next year, around 40 undergraduate scholarships for up to a year of study will be offered across the four pilot locations of Singapore, Indonesia, Japan and Hong Kong. More than 700 Australian undergraduate students will benefit from a mobility grants program that will support a range of study experiences from short term to up to one year.
Many participants will also complete internships with Australian businesses operating in their host country.
The program will be rolled out more broadly across the region from 2015, transforming and deepening our connections with the Indo Pacific and over time helping make study in the region a rite of passage for Australian students.
Our students will return home work ready and Asia-literate, with ideas to boost Australia's innovation and productivity to ensure we take full advantage of the region's economic transformation.
Further information is available at www.dfat.gov.au/new-colombo-plan.