Australia welcomes historic trade package

---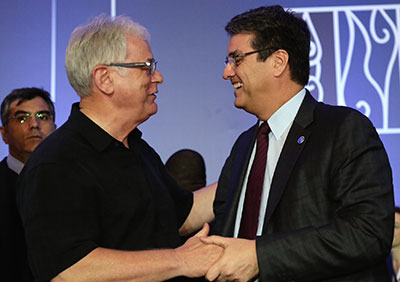 Minister Andrew Robb & WTO Director-General Roberto Azevêdo
Media release from the Minister for Trade and Investment, the Hon Andrew Robb AO MP
Saturday 7 December 2013
Trade Ministers from 159 countries have reached an historic trade agreement in Bali that will create more than 21 million jobs worldwide.
As a participant in the negotiations, Australia's Trade and Investment Minister, Andrew Robb, warmly welcomed this WTO outcome.
The trade reform package will make it easier and cheaper for goods to flow through the ports and customs processes of 159 countries.
The agreements adopted today reaffirm the global commitment to eliminate agricultural export subsidies, address genuine food security needs through non-trade distorting policies, and to maximise export opportunities under tariff rate quotas.
"Despite some suggestions, the Ministerial meeting was not about North-South differences. The overwhelming majority of WTO Members wanted a result, and we got there," Mr Robb said.
"After 13 years of talks, the Bali outcome offers us a real opportunity to re-energise the WTO and get back to its core business of delivering trade liberalisation."
"This result is a testament to the tireless efforts of WTO Director-General Azevedo and to Indonesia as the host of the Bali meeting."