Australia concludes FTA negotiations with the Republic of Korea


---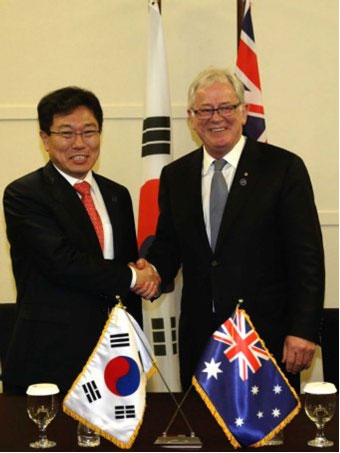 Joint media release:
The Hon Tony Abbott MP, Prime Minister
The Hon Andrew Robb AO MP, Minister for Trade and Investment
Thursday 5 December 2013
Australia has concluded negotiations for a Free Trade Agreement (FTA) with the Republic of Korea, our third-largest goods export market and fourth-largest trading partner.
Building stronger trading relationships in Asia was a key election commitment and part of the Coalition's plan to build a strong, prosperous economy.
As a result of the Agreement, tariffs will be eliminated on Australia's major exports to Korea and there will be significant new market openings in services and investment. The FTA translates to higher economic growth and more jobs for Australians.
As part of the FTA, tariffs of up to 300 per cent will be eliminated on key Australian agricultural exports such as beef, wheat, sugar, dairy, wine, horticulture and seafood, as well as resources, energy and manufactured goods.
To read the full press release, visit http://bit.ly/1hzIBso.