Robb to advance Australia's trade interests in Singapore

---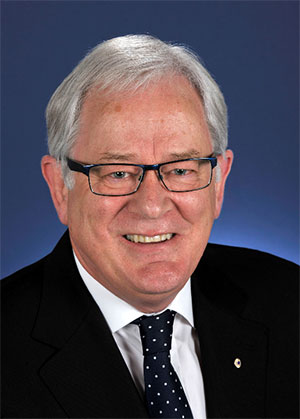 Trade and Investment Minister Andrew Robb
Monday 2 December 2013
Media release from the Trade and Investment Minister
Trade and Investment Minister Andrew Robb has departed Australia to participate in the 9th Ministerial Conference of the World Trade Organization (WTO) in Bali followed by advanced high level Trans Pacific Partnership (TPP) negotiations in Singapore.
Mr Robb is looking forward to the opportunity of co-chairing the 38th Cairns Group Ministerial Meeting in Bali tomorrow (2 December) with his counterpart, Indonesia's Minister for Trade Mr Gita Wirjawan.
The Cairns Group, which was established in 1986, is a coalition of 19 agricultural exporting countries, committed to agricultural trade reform, including the elimination of trade distorting subsidies and tariffs. Food security will be a key issue on the agenda.
"Agriculture is one of our country's great strengths and chairing the Cairns Group provides a strong platform to both advance Australia's agricultural trade policy interests and to influence international views on policy reform," Mr Robb said.
"This will be the century of food and water security and as a country we are extremely well placed to help meet surging demand in the Asia Pacific which will be driven by the extraordinary rate of growth in the region's middle classes."
The Ministerial Conference (MC9) to follow is the highest decision-making body of the WTO and will involve ministers from 159 member states. The Conference will consider a package of reforms around agriculture, including components relevant to developing countries, as well as trade facilitation, which has the potential to reduce total trade costs for exporters.
On Wednesday morning Mr Robb will address the main Plenary Session of the MC9 conference. He will also pursue Australia's trade interests in a range of bilateral meetings with his ministerial counterparts and will outline Australia's plans for our 2014 G20 presidency.
Following Bali, the Minister will head to Singapore for advanced stage TPP negotiations from 7-10 December. The TPP is the most comprehensive free trade agreement currently under negotiation and involves 12 countries responsible for 40 per cent of global GDP.
"There is a broad willingness to resolve outstanding TPP issues and bring these negotiations to a conclusion, however, from Australia's perspective much will depend on the level of ambition around market access," Mr Robb said.
"I will be pushing hard for outcomes that provide significant and material opportunities for Australian businesses and exporters, including farmers, manufacturers and service providers. While the TPP is a 21st century agreement, there are some 19th century issues still to be resolved from a market access perspective.
"The Australian Government is committed to a very ambitious trade and investment agenda and while these areas of policy are indeed international, they are also of course intrinsically linked to our domestic economic fortunes in terms of supporting sustainable growth, businesses, both large and small and most importantly jobs," Mr Robb said.
For the full press release on the Minister's website please visit http://www.trademinister.gov.au/releases/2013/ar_mr_131201.html.