The Australian: Investing in Africa via Oz miners

---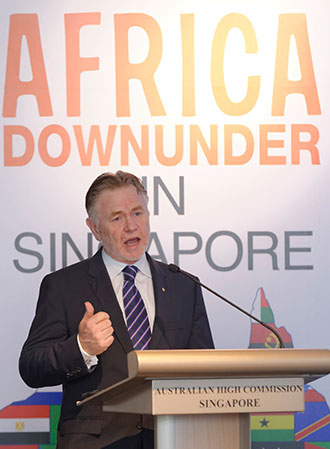 Philip Green addresses guests
by: ANDREW BURRELL
From: The Australian
November 09, 2013 12:00AM
TAKE a group of Australian chief executives who need to raise billions of dollars to fulfil their dream of building new mining projects in perilous Africa.
Add about 100 of Singapore's top money managers who, although traditionally risk averse and largely unfamiliar with far-flung nations such as Burkina Faso, are no longer ignoring the potential of Africa as the world's next resources powerhouse.
And throw in Australia's high commissioner to Singapore, Philip Green, an unusually business-savvy diplomat who has spent more than half his professional life in Africa but who now heads Australia's mission in Asia's wealth capital.
The result was a unique gathering behind the lush foliage and high walls of the imposing Australian High Commission building in Singapore this week.
Billed as "Africa Down Under in Singapore", the invitation-only event merged African resources, Australian mining expertise -- led by key players Sundance Resources and Resolute Mining -- and Singapore's fast-growing pool of capital, which already measures $S1.63 trillion ($1.39 trillion) and is on the lookout for higher yields worldwide.
Green wants the 200 or more Australian companies with mining projects in Africa to tap into this Singaporean capital as the city-state prepares to make up for years of under-investment in the one-time "dark continent".
He notes that Australian companies have about 650 projects in Africa, in 42 of the continent's 54 countries. The value of current and prospective Australian investment in African resource projects is estimated at $65 billion.
Green told the Singapore-based fund managers the soundest way to gain exposure to Africa's resources sector was to invest in Australian Securities Exchange-listed miners, thereby leveraging off the respect and experience many of these companies had built up in Africa.
This was Australian economic diplomacy, the new buzzword of the Abbott government's foreign policy under Julie Bishop, being deployed to surprising effect. It was even more remarkable, perhaps, because Green was chief of staff to Bishop's nemesis, Kevin Rudd, when he was foreign minister, and served as Rudd's international affairs adviser during his first stint as prime minister.
The event ended with a lavish cocktail reception for the miners and money managers at Green's plush official residence on Thursday night and was followed by one-on-one meetings in the city's financial hub yesterday.
The firms involved were among the biggest wealth managers in Singapore: Bank of Singapore, Citibank, Standard Chartered, Credit Suisse, UBS, OCBC, Bromius Capital, Storm Harbour, Macquarie Capital, Heritage Capital Management, Africa Asia Capital, TC Capital and Mandal Asset Management.
Singapore's biggest wealth fund, government-owned Temasek, which has a portfolio of $S215 billion, was the only notable absentee.
Singapore's Business Times newspaper this week editorialised that Singaporean companies and investment managers should wake up to the opportunities in Africa -- years after other nations, including China, piled into the continent -- and suggested they should partner with Australian companies.
"Singapore's commercial engagement with Africa is far below potential," the paper says. "Its total trade with the continent last year was less than $18bn, which is slightly more than half of its trade with India and about one-third of its trade with China. Only an estimated 55 Singapore companies operate in Africa, compared to several hundred in each of Asia's larger economies."
One Singaporean equity investor said Africa represented a "steep learning curve" for Singaporean fund managers despite their rising appetite for risk in booming Southeast Asian economies such as Indonesia and Thailand.
Green, who has served as ambassador or high commissioner to 10 African countries, told the conference that doing business in Africa had deeper benefits than the quest for profits.
It was also "good for the soul", he said, because of the community development role that often went hand in hand with working in impoverished countries. "This is a particularly important form of ethical investment, a form of investment that will support a group of countries and a group of people who deserve a better future," he said.
To read the full article, visit http://www.theaustralian.com.au/business/mining-energy/investing-in-africa-via-oz-miners/story-e6frg9df-1226756151439#sthash.sJbcumrp.dpuf
Andrew Burrell travelled to Singapore courtesy of Africa Downunder.