6,200 Singaporeans celebrate Singapore Day in Sydney

---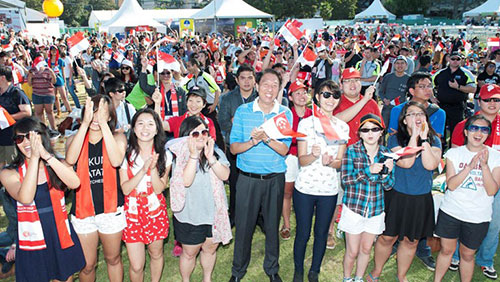 Deputy PM Teo Chee Hean with revelers at Singapore Day in Sydney
Monday 14 October 2013
Over 6,000 Singaporeans came together at the Royal Botanic Gardens in Sydney on Saturday 12 October for 'Singapore Day' festivities.
Inaugurated in 2007 by the Overseas Singaporean Unit, the annual event has previously been held in various locations around the world including Melbourne, Shanghai and New York.
Speaking at the event, Deputy Prime Minister Teo Chee Hean urged those in attendance and other overseas Singaporeans to stay connected to Singapore.
Currently, there are over 50,000 Singaporeans residing in Australia.
To read Channel NewsAsia's coverage of the event visit http://www.channelnewsasia.com/news/singapore/6-200-singaporeans/845356.html.