The Australia-Singapore business connection: Sep '13

---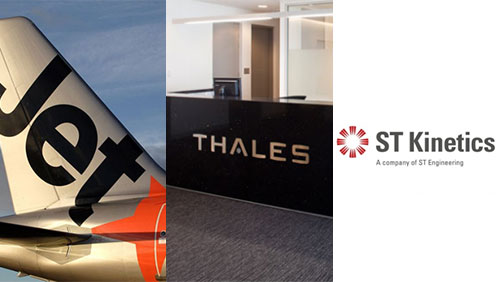 Companies to make headlines in September included Jetstar, Thales and ST Kinetics
Friday 11 October 2013
The Australian High Commission's monthly wrap of business news linking Australia and Singapore.
Companies to make headlines in September included M&L Hospitality, Thales, Singapore Technologies Kinetics, Sim Lian and Jetstar.
Descriptions and links to articles below:
Singapore firms buy up Melbourne sites - 9 Sep 13
Foreign investors are buying about 25 per cent of commercial properties offered in Melbourne's CBD, a record level, Savills Australia maintains
http://www.smh.com.au/business/property/singapore-firms-buy-up-melbourne-sites-20130909-2tfl0.html
M&L Hospitality Considers Australia for $500 Million IPO - 11 Sep 13
Singapore's Kum family is considering Australia as a possible venue for an initial public offering to raise as much as $500 million through their M&L Hospitality Trusts unit
http://online.wsj.com/news/articles/SB10001424127887324549004579068651843830112?KEYWORDS=m++l+australia
Thales, ST Kinetics agree on Australian munitions work - 13 Sep 13
Thales and Singapore Technologies Kinetics have agreed to develop ST Kinetics' 40mm low-velocity air-bursting ammunition for the Australian and New Zealand markets.
http://www.upi.com/Business_News/Security-Industry/2013/09/13/Thales-ST-Kinetics-agree-on-Australian-munitions-work/UPI-36461379066520/
Jetstar clears hurdle in Singapore - 24 Sep 13
Jetstar's aspirations to expand in Asia have received a boost after Singapore's competition watchdog cleared the way for the budget airline's affiliates to coordinate passenger and cargo services with Qantas.
http://www.smh.com.au/business/aviation/jetstar-clears-hurdle-in-singapore-20130924-2uaxf.html#ixzz2hIqIhc6V
Sim Lian's first bite costs $65m - 24 Sep 13
SINGAPORE-LISTED property developer Sim Lian has made its first foray into the Australian market with the $65.3 million purchase of an office building near Lend Lease's Barangaroo development in Sydney.
http://www.theaustralian.com.au/business/property/sim-lians-first-bite-costs-65m/story-fn9656lz-1226725554847#sthash.q4n7u7yH.dpuf
Investors 'keen' on Australian agriculture - 30 Sep 13
Hundreds of people from international pension and investment funds have attended a conference in Singapore about investing in agriculture.
http://www.abc.net.au/news/2013-09-30/nrn-aginvest-conference/4985336
If you have any contributions or feedback, please send an email to the Public Affairs team at the Australian High Commission: [email protected].
For more information on the Australian business community in Singapore please contact AustCham Singapore (http://www.austcham.org.sg/).
Disclaimer: http://dfat.gov.au/disclaimer.html