Foreign Minister Julie Bishop visits Singapore

---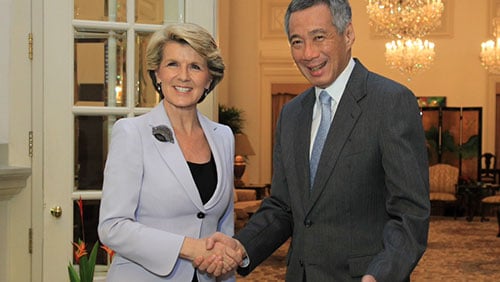 Australian Foreign Minister Julie Bishop meets Singaporean PM Lee Hsien Loong
Friday 4 October 2013
Australian Minister for Foreign Affairs Julie Bishop conducted an official visit to Singapore on 3-4 October at the invitation of Singapore's Minister for Foreign Affairs and Minister for Law K Shanmugam.
This was Minister Bishop's introductory visit to Singapore as Foreign Minister, and came just 15 days after the Abbott Government was sworn in, a clear indication of Australia's commitment to Singapore and the region.
Minister Bishop called on Prime Minister Lee Hsien Loong on Thursday afternoon and was hosted to dinner by Minister Shanmugam. During the meetings, Minister Bishop briefed Prime Minister Lee and Minister Shanmugam on the priorities and programs of the new Australian Government. Minister Bishop noted that Singapore and Australia shared similar strategic perspectives and reaffirmed the new Australian Government's commitment to strengthening and deepening the already excellent bilateral relations between the two countries.
Minister Bishop noted that Singapore was the fourth largest investor in Australia and Australia's fifth largest global trading partner in 2012. The discussions focused on ways to further enhance bilateral cooperation, such as through trade and business engagement.
Both Prime Minister Lee and Minister Shanmugam warmly welcomed Australia's proposal for Singapore to participate in the pilot programme of the New Colombo Plan initiated by Australia to foster closer education links and deepen its ties with Asia. Aside from the discussions on bilateral relations, there was also an exchange of views on regional and international developments.