Ceremony commemorates Australian WWII commando raid

---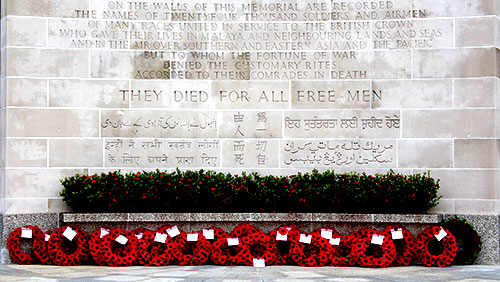 Wreaths laid at Kranji War Cemetary as part of the commemoration ceremony
Monday 30 September 2013
CLICK HERE to view the photo gallery from the ceremony on Facebook >>
A ceremony was held in Singapore to commemorate the 70th anniversary of Operation Jaywick, one of the most successful commando raids of World War II.
Operation Jaywick was a raid on Singapore's Keppel Harbour during the Japanese Occupation. In many quarters, this is considered the most successful Commando raid of the entire Second World War.
OPERATION JAYWICK
The daring raid was executed by a team of 14 Australian and British commandos from Z Special Unit, based in Australia. Departing on a fishing boat (the Krait) from a base in Exmouth Harbour, Western Australia on 2nd September 1943, the commandos eventually reached Singapore waters and managed to slip quietly into Keppel Harbour on the night of 26th September. They proceeded to attach limpet mines onto Japanese ships before exfiltrating from the harbour. All the mines detonated successfully and—in just one night—the Jaywick commandos destroyed 37,000 tonnes of enemy shipping! All 14 commandos returned to Australia safe and sound, and the operation is considered by many to be one of the most successful raids in the Second World War.
JAYWICK CONSEQUENCES: THE DOUBLE TENTH INCIDENT
Operation Jaywick, unfortunately, led to reprisals by the Japanese Kempeitai (military police) against the local civilian population, whom they had mistakenly suspected of involvement in the raid. One of the more infamous episodes, the Double Tenth Incident, occurred on 10th October 1943 (hence the name of the incident), in which 57 civilian internees at Changi Gaol (Prison) were hauled away by the Kempeitai and interrogated. Fifteen of the internees subsequently died during interrogation. The later round-up of suspects island-wide also included, among others, Choy Khun Heng and his wife, Elizabeth Choy, both of whom suffered terribly under the brutal hands of the Kempeitai. Many civilians paid a heavy price as the Kempeitai did not realise that the Commandos were the ones who were responsible.
OPERATION RIMAU
Jaywick's success led to Z Special Unit launching a similar raid in October 1944. Codenamed Operation Rimau, of the 23 commandos involved—six of them Jaywick veterans—13 were killed during the ill-fated mission, and 10 were captured and later executed in Singapore. The remains of 17 Rimau commandos are today buried at Kranji War Cemetery.
THE REMEMBRANCE CEREMONY
The ceremony on 26th September 2013 at Kranji War Cemetery honoured the memories of the brave souls and their heroic deeds, as well as the civilians who paid a heavy price in the Double Tenth Incident.
The ceremony was attended by the High Commissioners of Australia and Britain, military personnel from many countries, local war veterans, students and members of the general public.
Read the coverage on the ABC website http://www.abc.net.au/news/2013-09-27/an-singapore-ceremony-commemorates-operation-jaywick2c-ww2-com/4985086