Australian racing scholarship winner coming to Singapore

---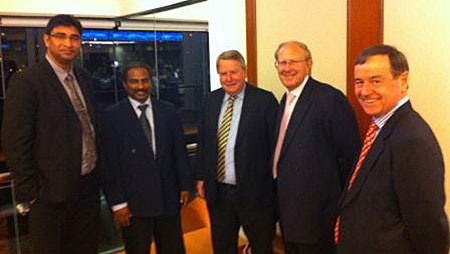 Thursday 29 August 2013
Australian Racecourse Management Scholarship winner Nevesh Ramdhani will visit Singapore later this year as part of his prize.
Mr Ramdhani is currently finishing his MBA at Henley Business School while working as the Racecourse Manager at Royal Randwick in Sydney. He participated in the 2013 Australian Racecourse Managers Association Conference earlier this month held for the first time in Singapore.
He will be returning to Singapore to complete he scholarship program which will take place at the Singapore Turf Club and at the Hong Kong Jockey Club.
Mr Ramdhani has extensive experience in racecourse management. He is looking forward to understanding the strategies which both Hong Kong and Singapore use in their approach to the business aspect of racecourse management and to compare the Australian and Asian approaches.
Pictured to the right are scholarship winner Nevesh Ramdhani, R. Jayaraju, from the Singapore Turf Club, Lindsay Murphy from the Australian Turf Club in Sydney, John Ridley from the Hong Kong Jockey Club and John Fargher from Steriline Racing, Australia.
Background
The Racecourse Management Scholarship was established in 2008 by Steriline Racing Pty Ltd under the patronage of the Australian Racecourse Managers Association (ARMA) and with the support and generosity of the Hong Kong Jockey Club (HKJC) since inception and the Singapore Turf Club (STC) since 2010. The Scholarship's aim is to promote further development of the racecourse management profession in Australia.
The Scholarship is for study of all aspects of racecourse management operations at the HKJC's Sha Tin and Happy Valley racecourses and at the STC's Kranji racecourse over a period of approximately 12 days between October and December, 2013.