Australian Vision: Celebrating Australia in Singapore

---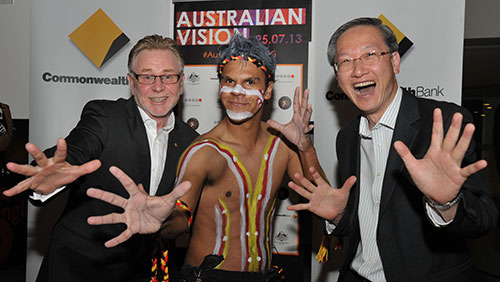 High Commissioner Philip Green, performer Ian Wilkes and Guest of Honour Sam Tan
AUSTRALIAN VISION PHOTO GALLERY >
Wednesday 31 July 2013
Over 300 guests packed the High Commission in late July for 'Australian Vision', celebrating Indigenous culture and the best of Australian food, beverage, music and art in Singapore.
The event took place in honour of NAIDOC (National Aboriginal and Islander Day of Observance Committee) Week, an acknowledgment of Aboriginal and Torres Strait Islander cultures and recognition for the contributions of Indigenous Australians in various fields.
A highlight of the event was having highly talented Aboriginal artist Ian Wilkes, from from Western Australia, entertain guests with a traditional Indigenous music and dance performance. Ian represents the Yirra Yaakin Theatre Company in Perth, Australia's largest Aboriginal-led theatre company.
On display was a selection of stunning Aboriginal art, courtesy of ReDot Fine Art Gallery (http://www.redotgallery.com/) in Singapore, which specialises in Indigenous Australian art.
Guest of honour Mr Sam Tan (Senior Parliamentary Secretary, Ministry of Foreign Affairs & Ministry of Culture, Community and Youth) spoke eloquently about the strong ties between Singapore and Australia and the importance of recognising the Indigenous history and culture of Australia.
Guests were able to enjoy a delicious and extensive range of Australian food, wine, beer, coffee and whisky, thanks to our fantastic restaurants and vendors, as well as products and prizes from suppliers. Our event partners were:
The event would not have been possible without the generous support of major event sponsor Commonwealth Bank (https://www.commbank.com.au/about-us/our-company/international-branches/asia.html), a long-time partner of the Australian High Commission.