JCU Singapore students & High Comm exchange ideas

---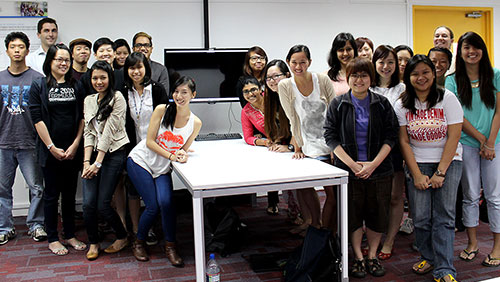 JCU Singapore Arts students with High Commission staff
Wednesday 24 July 2013
Australian High Commission staff visited students from James Cook University Singapore's Arts program to exchange ideas on event management.
It was an opportunity for the students to get an insight into how the High Commission's Public Affairs department runs its vast array of public diplomacy events, and apply some of that knowledge to how JCU is planning for a big upcoming event, run by the students.
About James Cook University
JCU Singapore is fully owned by James Cook University Australia, the leading tropical research university in Australia.

The university established the company in Singapore in 2003 as part of its expressed intent of "Creating a brighter future for life in the tropics world-wide through graduates and discoveries that make a difference". The university is ranked in the top 4%* of universities in the world and is the leading tropical research university in Australia. It offers a suite of university level programs at the JCU Singapore campus.
For more information please visit http://www.jcu.edu.sg.