Australian Air Force Chief receives Singapore military award

---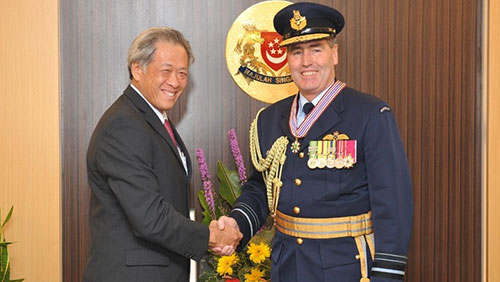 Air Marshal Geoff Brown receives the award from Minister for Defence Dr Ng Eng Hen
Tuesday 16 July 2013
Chief of Air Force of the Royal Australian Air Force (RAAF), Air Marshal (AM) Geoff Brown, was conferred Singapore's prestigious military award, the Meritorious Service Medal (Military).
Singapore's Minister for Defence Dr Ng Eng Hen presented the award to AM Brown at an investiture held at the Ministry of Defence (MINDEF) on Monday afternoon.
A statement issued by MINDEF read "AM Brown was awarded the medal in recognition of his significant contributions to enhancing the bilateral relationship and forging of closer ties between the RAAF and the Republic of Singapore Air Force (RSAF)."
In 2012, AM Brown played an instrumental role in the successful review of a Memorandum of Understanding (MOU) that has allowed the RSAF to train more student pilots and weapons systems officers at the flying training detachment at RAAF Base Pearce.
On receiving the award, AM Brown said: "I am extremely proud of the strong ties that exist between our nations and amongst the military across all levels of the three services. We pride ourselves in the strength of this bond with the RSAF and look forward to further advancing our joint capabilities.
"I am humbled and very grateful on being awarded the Meritorious Service Medal (Military). I am confident that we will endeavour to meet the challenges the future brings with the same proactive, positive and collaborative attitude we have demonstrated in the past."
The Singapore Armed Forces and the Australian Defence Force have a long history of military cooperation including the cooperation in Afghanistan, and extensive interactions in the form of bilateral and multilateral exercises, visits, professional exchanges, and the cross-attendance of courses. These interactions have deepened the close and long-standing defence relationship between the two countries.
Read the statement on the MINDEF website > http://www.mindef.gov.sg/imindef/press_room/official_releases/nr/2013/jul/15jul13_nr.html