Bob Carr delivers IISS-Fullerton Lecture in Singapore

---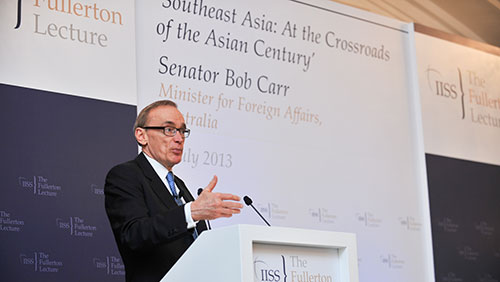 Foreign Affairs Minister Bob Carr delivering the IISS-Fullerton Lecture
Wednesday 10 July 2013
CLICK HERE to watch a full replay of Senator Carr's address.
Australia's Minister for Foreign Affairs, Senator Bob Carr, delivered the second IISS-Fullerton Lecture of 2013 in Singapore on Tuesday.
Senator Carr's address, 'Southeast Asia: At the Crossroads of the Asian Century', took place in the Straits Room of the renowned Fullerton Hotel, and was well attended by 200 invited guests of Singapore's business, media, government, diplomatic and intellectual communities.
The address was followed by a question-and-answer session, chaired by Dr Tim Huxley, Executive Director of IISS-Asia.
Among topics covered were the contrast between Australia from before its decisive break from the White Australia policy almost 40 years ago to now as a globally engaged nation, focused on Asia, enmeshed in the forums of the region, self consciously multicultural, confident of its place in our neighbourhood, and a free trader.
Senator Carr, the first Australian to give a Fullerton Lecture, emphasised that Australia, as ASEAN's first dialogue partner (since 1974), understandably appreciates and accepts the centrality of ASEAN in regional decision-making and regional planning.
Also discussed was Southeast Asia being Australia's "core business", and support for Southeast Asia on regional issues, such as the South China Sea.
CLICK HERE to watch a full replay of Senator Carr's address.
About the IISS-Fullerton Lecture Series
The IISS Fullerton Lecture series comprises eight lectures a year bringing major figures in Asia-Pacific and international affairs to speak in Singapore. Ban Ki-moon, United Nations Secretary-General, gave the inaugural lecture in 2012. Subsequent speakers include William Hague, Robert Zoellick and Felipe Calderón. Participation is by invitation only.
About IISS-Asia
The International Institute for Strategic Studies (IISS) is a London-headquartered research institute focusing on international affairs.
IISS-Asia was incorporated in Singapore in 2001 to allow the IISS to demonstrate its growing commitment to the region and to develop closer relations with its members in the Asia-Pacific.