Vic Premier visits Singapore

---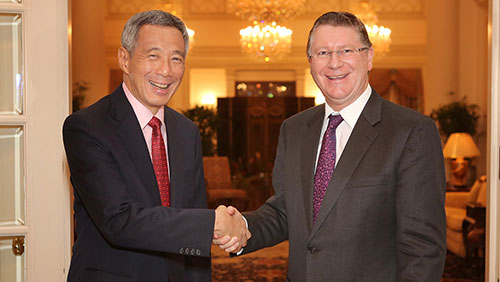 Singaporean Prime Minister Lee Hsien Loong & Victorian Premier Denis Napthine
Friday 28 June 2013
Victorian Premier Denis Napthine met with Singapore Prime Minister Lee Hsien Loong during his recent Super Trade Mission to Asia.
Dr Napthine briefed PM Lee on developments in Victoria and Victoria's interest to strengthen its economic links with Asia. They reaffirmed the excellent ties between Singapore and Victoria which have grown significantly in areas such as trade and investment. They agreed to encourage further economic collaboration and explore ways to broaden cooperation.
The Premier also met with representatives from the Port of Singapore, the world's largest container transhipment hub, and joined tourism industry representatives at a presentation to key decision makers in South East Asia's travel industry.
"Strengthening the relationship between the Victorian and Singaporean port authorities will not only ensure that we share valuable information regarding our respective expansions, it will also ensure Victoria attracts a greater share of Singapore-Asia shipping activity as throughput increases in the region," Dr Napthine said.
Regarding tourism, the Premier emphasised the importance of Singapore as a travel market.
"Visitor numbers from Singapore to Victoria increased by six per cent in the year ending March 2013, with Singaporean visitors choosing to spend more nights in Victoria than any other state," Dr Napthine added.
"The Victorian Coalition Government is committed to ensuring that we remain the premier destination for Singaporean visits.
"The Super Trade Mission is an important first step for Victoria to begin expanding ties required to grow trade and investment with Singapore in the medium to longer term," Dr Napthine said.
The Super Trade Mission included visits to six countries – Indonesia, Malaysia, Singapore, Thailand, Vietnam and the Philippines.
For more information on the South East Asia Super Trade Mission, please visit http://www.premier.vic.gov.au/media-centre/media-releases/south-east-asia-super-trade-mission/tag/south_east_asia_super_trade_mission.html.