AustCham Singapore appoints new President

---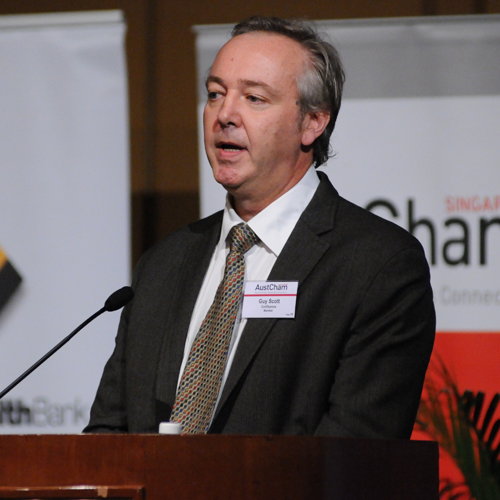 New AustCham President Guy Scott
Friday 28 June 2013
The Australian Chamber of Commerce Singapore welcomed its newly elected President, Mr Guy Scott at its Annual General Meeting on Wednesday 26 June held at the Australian High Commissioner's residence.
Mr Guy Scott, Managing Director at Confluence Project Management takes over as President from Mr Graham Lee, Partner at PricewaterhouseCoopers who has held the position since 2010. Graham Lee will remain on the Board.
Graham says, "It has been my privilege to serve as President of AustCham for three years and am I delighted to be handing over to Guy. We welcome Guy's experience and leadership to the role of AustCham President. In his role as Managing Director and joint founding shareholder of Confluence Project Management, Guy and Confluence have been involved with projects such as the Singapore Grand Prix and the construction of Marina Bay Sands. His business acumen is well respected and his future guidance of the Board will undoubtedly lead AustCham in the right direction."
Guy says, "It is an honour to accept this role of President. I am pleased that Graham will be continuing on as a board member and I know that the other board members and the AustCham community are extremely appreciative of all he has done as President of the chamber. Graham's passion for issues of advocacy has seen AustCham actively speaking up on several issues that impact our members. As a chamber we have engaged in meaningful dialogues with both the Australian and Singaporean Governments. Our reputation as the voice of Australian business in Singapore has raised AustCham's profile in the business community and also with the media.
AustCham is an important vehicle for assisting Australians and Australian business in Singapore. Whether it's making the right connections or sharing information and market intelligence, becoming a member of AustCham makes good business sense. I look forward to serving the membership as their President."
About AustCham: The Australian Chamber of Commerce, Singapore (AustCham) was formally established in 1982 and is an organisation which fosters, and provides a forum for, business links between Australia and Singapore. With over 670 members covering a broad cross section of the Australian business community in Singapore, we connect members to business & government, each other and our culture through hosting, facilitating and providing events, services and information for members. http://www.austcham.org.sg/