Further Australian support for polio eradication

---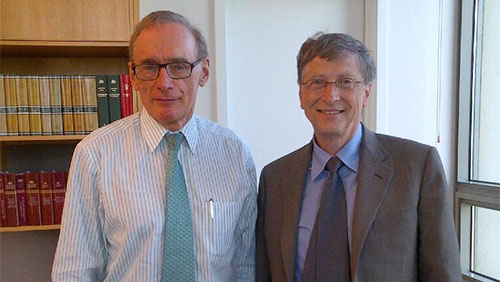 Foreign Minister Bob Carr with Bill Gates
Tuesday 28 May 2013
Prime Minister Julia Gillard and Foreign Minister Bob Carr today announced further funding to help eradicate polio – a debilitating disease that continues to strike the world's most vulnerable people, especially children.
Australia will provide $80 million over four years from 2015 to 2018 to help finish the job and achieve worldwide polio eradication.
This contribution follows a $50 million commitment to the Global Polio Eradication Initiative from 2011 to 2014 announced by the Prime Minister at the Commonwealth Heads of Government Meeting in Perth in October 2011.
The Prime Minister and the Foreign Minister applauded the leadership shown by the Bill and Melinda Gates Foundation, the World Health Organization, UNICEF and Rotary International on polio. The Gates Foundation is contributing US$1.8 billion for the Polio Endgame Strategic Plan 2013 – 2018, which is one-third of the total budget.
Australia has a proud history of support for polio eradication. From 1912 to 1972, more than 30,000 cases of paralytic poliomyelitis were reported in Australia, and a number of polio survivors in Australia today still live with the pain and debilitation of post-polio syndrome.
Read the full press release on the Foreign Minister's website by clicking HERE.