George Yeo presented with Honorary Order of Australia (AO)

---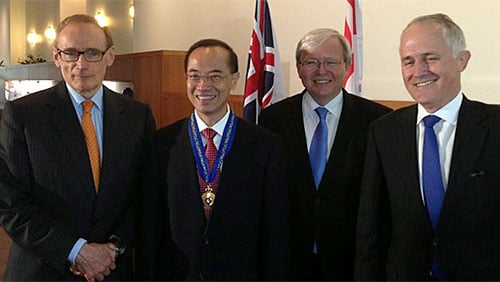 Image: George Yeo Facebook page
Wednesday 15 May 2013
Foreign Minister Bob Carr today presented former Singapore Foreign Minister and Trade Minister, George Yong-Boon Yeo, with an Honorary Officer of the Order of Australia (AO) in recognition of his service to Australia-Singapore relations since 1999.
"Mr Yeo is a good friend to Australia and has played a key role in advancing diplomatic relations between our two countries," Senator Carr said.
"The award of the Order of Australia is appropriate recognition of Mr Yeo's long commitment to international diplomacy and to the Australia-Singapore relationship.
"I congratulate Mr Yeo on receiving one of Australia's highest honours today".
CLICK HERE for the full press release from the Minister for Foreign Affairs.