Thorpedo dives into Singapore

---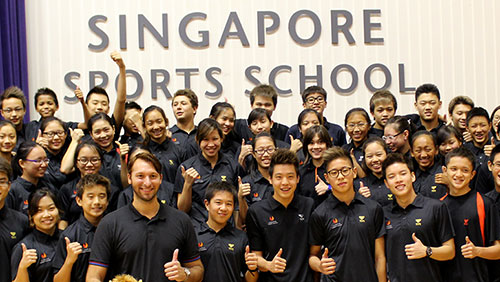 Ian Thorpe with students from the Singapore Sports School swimming program
Tuesday 14 May 2013
Swimming legend Ian Thorpe, arguably Australia's greatest ever Olympian, visited the Singapore Sports School on Tuesday to inspire Singapore's champion athletes of the future.
Thorpe, who won five Olympic gold medals, the most of any Australian ever, took to the stage in front of around 400 students to discuss his career, the challenges he's faced, how he's overcome adversity and how to get the most out of yourself as a young athlete aspiring to great things.
Thorpe described how, as a 17-year-old, he doubted whether he would meet the huge expectations and pressure placed upon him at the 2000 Sydney Olympics, but the roar of the crowd when his name was announced ahead of his first race on the opening night gave him the confidence to go on and win his first gold medal.
He said that first night in Sydney was the most memorable evening of his swimming career.
At age 14 Thorpe became the youngest male ever to represent Australia, and his victory in the 400 metre freestyle at the 1998 Perth World Championships made him the youngest ever individual male World Champion.
Now 30, Thorpe has rediscovered his passion for the sport after first retiring from international competition at just 24.
He fell short of qualifying for the 2012 London Olympics but told those in attendance on Tuesday that he's enjoying being back in competition, now swims solely for enjoyment and he accomplished more than he ever expected he would be able to.
Ian Thorpe facts
Most Olympic gold medals of any Australian ever - 5
Equal most Olympic medals (with Leisel Jones) of any Australian ever - 9 (5 gold, 3 silver, 1 bronze)
Equal most gold medals at a single Olympic games (along with six other athletes) of any Australian ever - 3 in Sydney
Equal most medals at a single Olympic games (along with Shane Gould and Alica Coutts) - 5 in Sydney (3 gold, 2 silver)
Join the 'Australia in Singapore' community on Facebook >>