Penfolds wine master visits Singapore

---
Thursday 9 May 2013
Award-winning Penfolds chief winemaker Peter Gago was in Singapore on Thursday as part of the Australian brand's re-corking service for Penfolds owners.
Owners of Penfolds red wines, 15 years or older, had the opportinity to have their wine assessed by the Penfolds winemaking team at the St Regis Hotel and, if appropriate, opened, tasted, topped up and re-capsuled on the spot.
Mr Gago, who in 2012 was awarded the Institute of Masters of Wine's Winemaker award at the world's largest annual Wine Fair, ProWein, was on hand to personally assess some of Penfolds' finest product, and educate owners on their wines.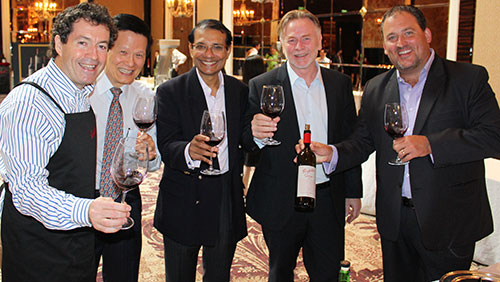 L-R: Penfolds chief winemaker Peter Gago, Michael Ow, Paul Supramaniam, Australian High Commissioner Philip Green, General Manager SEA for Treasury Wine Estates Andrew O'Brien
The event was a big success with many Singaporeans and expats taking the opportunity to have their Penfolds wine assessed, a clear indication of the growing popularity of and appreciation for high quality Australian wine in Asia.
Penfolds, based in the Barossa Valley in South Australia, was established by Dr. Christopher Rawson Penfold and wife Mary on the outskirts of Adelaide in 1844. Penfolds makes one of Australia's most prestigious red wines and a true Australian icon, Grange.
The event in Singapore was organised by the owner of Penfolds wines, Treasury Wine Estates (TWE), a unique global wine company with a leading international portfolio of new world wines.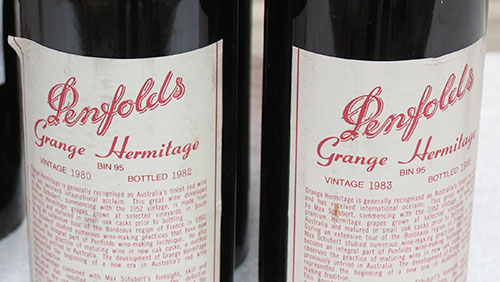 Some of the Penfolds Grange brought in to be assessed by the Penfolds winemaking team