Australian High Commissioner joins the Twitterverse

---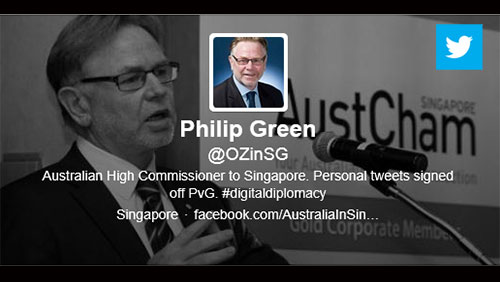 It's official. Australian High Commissioner Philip Green has joined Twitter.
The Twitterverse officially welcomed its newest diplomatic member at 5:06pm Singapore time on Wednesday 17 April, 2013, when Philip tweeted: "When I began as a diplomat they gave me pen+paper. Now I'm Oz High Comm to SG they've given me Twitter. Cool to be in the Twitterverse -PvG".
Tweeters are encouraged to go and say g'day to Philip, who's using the Twitter handle @OZinSG.
The launch of the Twitter account is part of the Australian High Commission's efforts to foster an engaged 'Australia in Singapore' community, and follows the launch of the Facebook page (http://www.facebook.com/AustraliaInSingapore) earlier this year.
Through Philip's Twitter account, the Facebook page, the official website (http://www.singapore.embassy.gov.au/) and the OZone events portal (http://ozone.sg), which is a hub for events happening in Singapore with Australian links, anyone in Singapore with an interest in Australia will be able to stay up-to-date with what's happening in Singapore and the region involving Australia and Australians.
If you have any feedback on what we're doing online, please send us a message on Facebook, an email ([email protected]), or start a conversation with Philip on Twitter.
Stay tuned for another exciting online developments that we're working on.