Young Singaporean photographer dazzles at the High Commission

---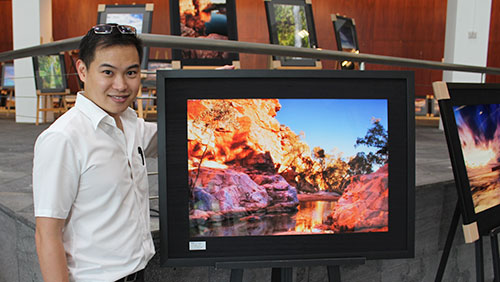 Jingyi Tan alongside one of his images from the 'SOUTH' exhibition
Wednesday 17 April 2013
The stunning work of young Singaporean photographer Jingyi Tan is on display at the Australian High Commission until the end of May.
Jingyi's exhibition, 'SOUTH', is a collection of photographs from Australasia. Ranging from the deserts of Australia's red centre, to the remote glacial landscapes of New Zealand, 'SOUTH' is about a journey on the roads less travelled.
Australian High Commissioner Philip Green had the honour of opening Jingyi's debut exhibition back in February at the Arts House, and was so impressed that he invited Jingyi to exhibit his work at the Atrium Gallery in the High Commission.
The Atrium Gallery is open to the public from 8:30am-4:30pm, Monday to Friday.
Find out more about Jingyi and his work at his website (http://www.jyphotographs.com/).
Join the 'Australia in Singapore' community on Facebook >>