AustCham joins the High Commission in supporting SCWO

---
Thursday 4 April 2013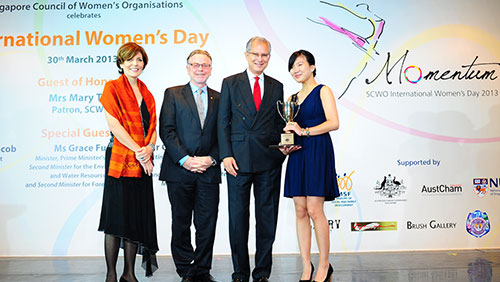 In 2013 AustCham has partnered with the Australian High Commission in supporting the Singapore Council of Women's Organisations (SCWO) International Women's Day activities.
As part of the alignment, the High Commission and AustCham supported the SCWO-National University of Singapore Debating Tournament, held on the weekend of 23-24 March.
The winner of the Best Speaker Prize in the Open Category, St Andrews Junior College student Nar Sher May, has won two return airfares to Australia, provided by AustCham. Sher May accepted her prize at the SCWO Gala Dinner held at the Mandarin Oriental Hotel on Saturday 30 March, from SCWO Board Member Dr Jane Horan, Australian High Commissioner Philip Green and AustCham Singapore President Graham Lee.
The Australian High Commission has supported SCWO for the past three years and looks forward to continuing the partnership with AustCham.
Find out more about SCWO at http://scwo.org.sg/.
Find out more about AustCham at http://www.austcham.org.sg/.

Join the 'Australia in Singapore' community on Facebook >>