High Commissioner opens 'SOUTH' charity photo exhibition

---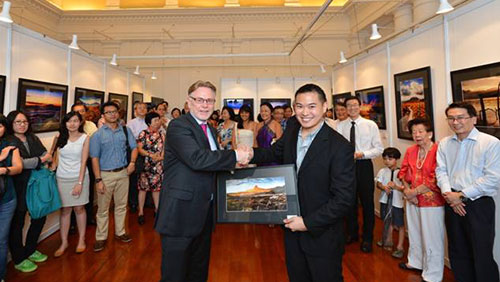 Photographer Jingyi Tan presents Philip Green with one of his pieces
Monday 25 February 2013
CLICK HERE to view the Facebook photo gallery from the event >>
Australian High Commissioner Philip Green had the honour of opening the 'SOUTH - Journeys through Australasia' charity photo exhibition, showing the work of Jingyi Tan.
Jingyi is a Singaporean who compiled the shots over four years and hundreds of miles hiking through Australia and New Zealand.
The exhibition, Jingyi's first, ran over the weekend and raised $77,200 SGD for thr NCC Research Fund.
Check out Jingyi'S work by visiting his website - http://www.jyphotographs.com/.
Join the 'Australia in Singapore' community on Facebook >>