Celebrating Australian creativity in Singapore

---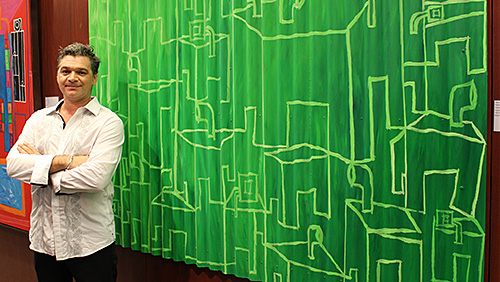 Artist Theo Mandziy in front of his work 'District 11', which sold at the event
Wednesday 20 February 2013
View the photo gallery on Facebook >>
On Tuesday evening people from the arts, culture and Australian International School (AIS) communities came together to celebrate Australian creativity in Singapore at the Australian High Commission Group Show reception.
The show, which runs until the end of the February in the Atrium Gallery, includes works from Australian artists and galleries in Singapore, as well as AIS Visual Arts students.
Thank you to the following Australian International School students involved in the curation of the show: Lauren Adams, Mikayla Ellam, Brett Johnson, Khali Kuhn, Peyton Pizano and Katy Shaw. Thank you also to Nicholas Coulter and Gabriel Cummins for their involvement.
The Australian High Commission wishes to acknowledge the following artsists and galleries involved in the show (names in alphabetical order):
Zachary Anestos - Australian International School
Bianca Barker - Australian International School
Victoria Cattoni
B. Jane Cowie - Art Glass Solutions
Janet DeBoos - Post-Museum
Stephen Eastaugh - Australasian Arts Projects
Nathaniel Fleming - Australian International School
Sally Gabori - ReDot Fine Art Gallery
Lily Halton
Adele Hetherington - [email protected]
Natalie Pula Holmes - Australasian Arts Projects
Paula Jakubik - Australian International School
Ian Jones - Post-Museum
David Kelly - ReDot Fine Art Gallery
Shimin Lim - Australian International School
Amphaphone Luangkhamdeng - Australian International School
Theo Mandziy
Melanie McCollin-Walker - Australasian Arts Projects
Emma McGlynn - Australian International School
James McDermid and Ellie Nuss
Moraig Mckenna - Post-Museum
Chelsea Moss - Australian International School
Ningura Napurrula - ReDot Fine Art Gallery
Alma Nungarrayi Granites - ReDot Fine Art Gallery
Mary Roberts Nakamarra - Australiasian Arts Projects
Takuro Shinmi - Australian International School
Shannon Sim - Australian International School
Riaan Van Onslen - Australian International School
Lauren Wedding - Australian International School
Olivia Yip - Australian International School
Join the 'Australia in Singapore' community on Facebook >>