Vale Barry Wain

---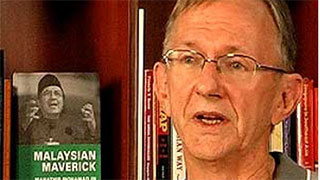 Image: Asia Sentinel
Tuesday 5 February 2013 | Public Affairs
The Australian High Commission is deeply saddened by the passing of Mr Barry Wain, a pillar of the journalism community in Southeast Asia for many years.
Mr Wain was a writer-in-residence at the Institute of Southeast Asian Studies in Singapore since April 2005, and a former editor and correspondent of the Asian Wall Street Journal.
An Australian journalist who had lived in Asia for nearly 40 years, he was also author of the bestselling book, Malaysian Maverick: Mahathir Mohamad in Turbulent Times, and The Refused, an account of the refugee outflow from Indochina after the Vietnam War. He worked for The Australian newspaper before moving to Asia.
Mr Wain was a familiar face to many at the Australian High Commission through the link shared between the High Commission and ISEAS. He was charming, interesting, knowledgeable and generous with his time.
Mr Wain passed away on Tuesday morning. He was 69. He is survived by his wife, Mrs Yvonne Wain and son, Mr David Wain.
The High Commission extends its deepest condolences to Mr Wain's family and friends.

Join the 'Australia in Singapore' community on Facebook >>