Aussie TV star meets High Commissioner on 'Serangoon Road' set

---
Friday 1 February 2013 | Australian High Commission Singapore
On Thursday Aussie actor Don Hany met Australian High Commissioner Philip Green on the Singapore set of TV series 'Serangoon Road', which Hany is starring in.
Serangoon Road is the first original drama produced by HBO Asia and will air in Australia on ABC TV later this year. It is the first co-production between Singapore and Australia, with filming having taken place in Singapore and at Infinite Studios on Batam Island, Indonesia.
Hany (Offspring, Underbelly, East West 101) plays the leading role of detective Sam Callaghan, alongside fellow Australian Maeve Dermody, Singaporeans Chin Han and Lim Kay Tong, and Chinese actress Joan Chen.
Mr Green visited the set in Singapore and observed a number of scenes being filmed, along with Deputy High Commissioner Julie Heckscher.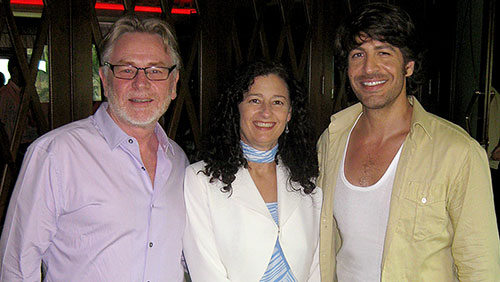 Australian TV star Don Hany (right) with Australian High Commissioner to Singapore Philip Green (left) and Deputy High Commissioner Julie Heckscher (middle) on the set of Serangoon Road
The 10-epoisode series, created and produced by Australian Paul Barron, is a fast-paced detective series set against the exotic, tumultuous backdrop of 1960s Singapore.
Australia's Minister for the Arts, Simon Crean, visited the set on Batam Island in November, as part of his week-long diplomatic and cultural visit to India, Singapore and Indonesia.
The series is financed by ABC TV, ScreenWest, Singapore's Media Development Authority, HBO Asia and Content Television, with Australian and Singaporean nationals as producers, writers, actors and crew, and with post-production work carried out in Perth and Sydney.
The Australia-Singapore Film Co-production Agreement forged in 2008 and the Australian Government's recently released 'Australia in the Asian Century' White Paper both focus on fostering cultural development between Singapore and Australia.
Join the 'Australia in Singapore' community on Facebook >>