Australia honours George Yeo

---
Friday 30 November 2012
On Friday 30 November, the Australian Government announced that former Singapore Foreign Minister, Mr George Yong-Boon Yeo, was awarded one of Australia's highest honours. Mr Yeo has been appointed Honorary Officer of the Order of Australia (AO).
The honour was bestowed in recognition of Mr Yeo's service to Australia-Singapore bilateral relations and the establishment of the Singapore-Australia Free Trade Agreement (SAFTA).
The Australian High Commissioner to Singapore, Philip Green, warmly welcomed the award to Mr Yeo. "The award, rarely given to non-Australians, reflects the high esteem in which Mr Yeo is held in Australia" Mr Green said. "He is a great Singaporean, and a worthy recipient of one of Australia's highest honours".
As Minister for Trade and Industry, Mr Yeo was integral to the negotiation and successful conclusion of SAFTA in 2003. This was the second free trade agreement Australia concluded, the first being in 1983 (with New Zealand).
As Minister for Foreign Affairs, Mr Yeo worked closely with Australia on efforts to counter terrorism in the region and was a strong advocate and partner for Australia in regional forums including ASEAN, the East Asia Summit, APEC and Asia-Europe Meeting (ASEM).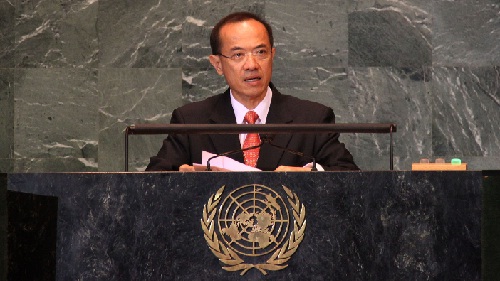 Mr George Yeo addresses the United Nations General Assembly during his time as Singapore's Minister for Foreign Affairs. Photo source: news.gov.sg
Find 'Australia in Singapore' on Facebook