Australian High Commissioner address to the S Rajaratnam School of International Studies (RSIS), Singapore
Thursday 13 December 2012
On Wednesday 12 December 2012, Australian High Commissioner to Singapore, Philip Green OAM, delivered an address to students, staff and friends of the S. Rajaratnam School of International Studies (RSIS), Singapore.
The speech focused on the rise of Asia and how Australia, a country of 23 million people with the fourth-largest economy in Asia, should respond.
The release of the 'Australia in the Asian Century' White Paper in October 2012 made a significant statement about how Australia sees itself in the region, which Mr Green addressed.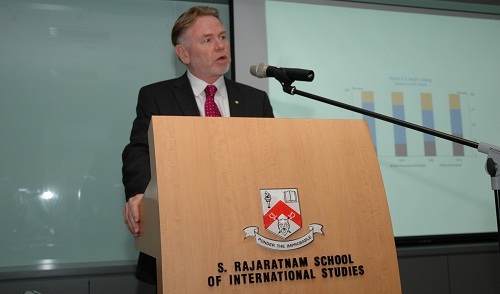 Mr Philip Green OAM addresses the S Rajaratnam School of International Studies (RSIS), Singapore on Wednesday 12 December, 2012