New Australian High Commissioner presents credentials to President of Singapore
---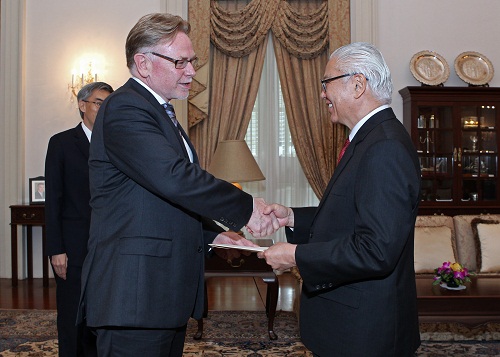 Thursday 22 November 2012
Australia's new High Commissioner to Singapore, Mr Philip Green OAM, presented his credentials to the President of Singapore, Dr Tony Tan Keng Yam, at a ceremony at the Istana on Monday 19 November.
Mr Green is a senior career officer with the Department of Foreign Affairs and Trade (DFAT), and was most recently First Assistant Secretary in DFAT's International Security Division.
He has previously served overseas as High Commissioner in South Africa (2004-2008), and in Kenya (1998-2000).
In addition to his experience as a career officer in the Department, Mr Green also served as Chief of Staff to Foreign Minister Rudd and as International Adviser in Prime Minister Rudd's Office
In 2004, Mr Green headed the secretariat for the Review of Australian Intelligence Agencies. He was Deputy Principal Member at the Refugee Review Tribunal from 2001-2002, and has served as Director in the International Division of the Department of Prime Minister and Cabinet.
Mr Green holds a Bachelor of Arts (Honours) and a Bachelor of Law from the University of Sydney. In 2002 he was awarded the Order of Australia Medal for his role in the response to the Bali terrorist tragedy.