Welcome
The Australian High Commission is the official representative of the Australian Government in Singapore. We provide a range of services to the general public, including consular, passport, visa and immigration, citizenship and cultural relations services. We also act on behalf of various Australian Government authorities by representing Australia's interests to local, regional and multilateral government and business organisations in Singapore.
Latest news

Eat for a cause and enjoy a parma for a farmer tonight
16 August 2018
Juicy chicken coated in crispy golden breadcrumbs, a layer of ham and smothered with tomato sauce and melted cheese. Just when you thought tucking into a delicious chicken parmigiana couldn't get more satisfying, you can now support Australia's drought-affected farmers at the same time.

From tonight, three generous restaurants in Singapore are joining venues across Australia to support the "Parma for a Farmer" initiative. The Boomarang Bar, Dallas Restaurant & Bar (Suntec and Boat Quay venues) and Hero's Live Music Bar will give a donation to the Buy a Bale campaign for every chicken parmigiana sold from 16 August 2018.

So get a group of friends, family or colleagues together and enjoy a delicious parma at one of these restaurants from tonight.

The Buy a Bale campaign concept is simple enough. Ask Australians to donate and hay would be purchased from hay farmers who needed the income. Truckies are then paid to distribute the hay to farmers with animals who could spend what money they had left on other essential items like food for the family instead of hay to feed their animals.

The severe drought currently affecting our farmers could become one of the worst in 400 years. The whole of New South Wales was declared to be in drought last week, with one quarter of the state being in intense drought. Almost 60 per cent of Queensland is now in drought, though some Queensland farmers have been in drought for more than six years.

The impact on animal feed stock levels is dire. New South Wales has run out of feed and supplies are running low in southern Victoria. Farmers in the Australian Capital Territory and New South Wales are now turning to feed suppliers located as far as South Australia to keep their stock alive, and paying unprecedented prices for it. Some farmers have to ration water for their families and herd, while others may have to abandon their homes altogether. The psychological toll on farmers, their families and communities is hitting hard. Australians at home and around the world want to know how they can help out.

The Australian High Commission in Singapore encourages all venues in Singapore with chicken parma on their menus (or those considering adding this Australian icon to their menu) to take part. Please contact Jon Connolly at jon.connolly@dfat.gov.au or on +65 6836 4245 for more information on how you can get involved.

You can also support Bale for a Cause directly via their website at https://www.buyabale.com.au/.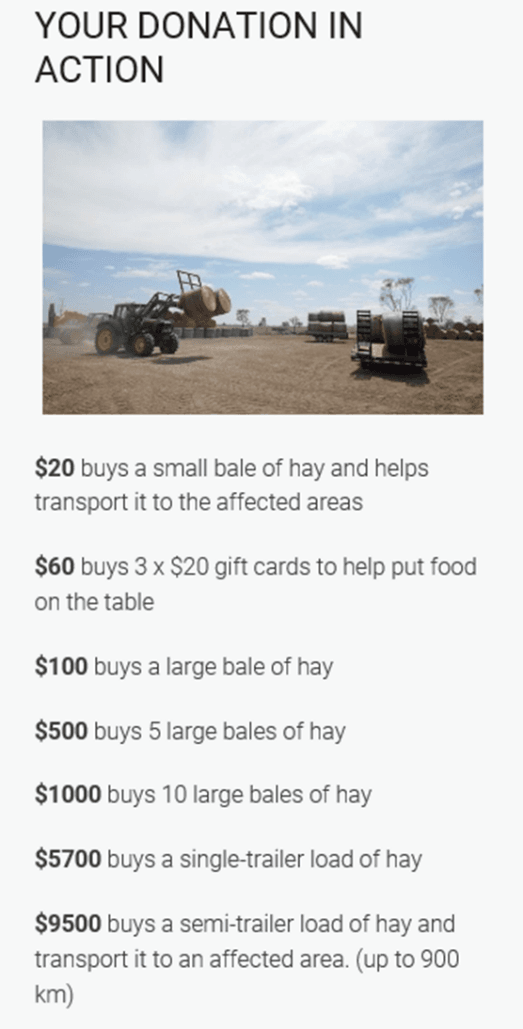 Stay safe when overseas. Click here for the latest travel information on Singapore from the Department of Foreign Affairs and Trade.
Australian passport holders do not usually require a visa for visits to Singapore of up to 90 days. The Australian High Commission is not the issuing authority for visas to Singapore. For Singapore visa enquiries contact Singapore Immigration & Checkpoints Authority or Singapore High Commission, Canberra. For information about bringing personal medication into Singapore, contact Singapore Health Science Authority.