Coronavirus (COVID-19) Information
This page includes information on travelling between Australia and Singapore, transiting through Singapore, vaccination status/certificates and other useful for Australians living in Singapore. Please click here to find out more.
For information on the Vaccinated Travel Lane, please click here.

If you are in need of urgent consular assistance, please refer to the consular
information here
Enhanced COVID-19 Measures in Singapore
In line with enhanced COVID-19 measures in Singapore, the Australian High Commission will only permit 2 adults per appointment for passport and notarial services.
The Australian High Commission, Singapore
The Australian High Commission is the official representative of the Australian Government in Singapore. We provide a range of services to the general public, including consular, passport, visa and immigration, citizenship and cultural relations services. We also act on behalf of various Australian Government authorities by representing Australia's interests to local, regional and multilateral government and business organisations in Singapore.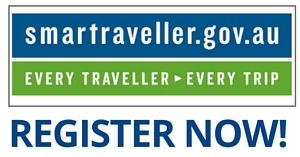 Smartraveller Changes - Re-Subscribe today
Smartraveller has the latest, authoritative travel advice so you can be informed and prepared about overseas travel. Subscribe to receive travel advice updates - by simply supplying your name and email address – straight to your inbox.
You can now also subscribe to the new SMS service - by supplying your mobile number – to receive critical alerts in the event of a crisis overseas.
In a crisis, Smartraveller will activate a crisis page on its website. It will make it easier for you or someone you know to contact the Australian Government if you need help. It will supplement the consular emergency hotline.
Visit www.smartraveller.gov.au to subscribe or connect with Smartraveller on Facebook and Twitter.

Payment in Australian Dollars Only
All services at the Australian High Commission are charged in Australian dollars.
Payment will be accepted by credit card only (Visa, Mastercard and American Express)
Please be aware that you may be charged a foreign transaction fee or currency conversion fee by your credit card provider if your credit card was not issued in Australia.