High Commission hosts Giles Alexander exhibition

---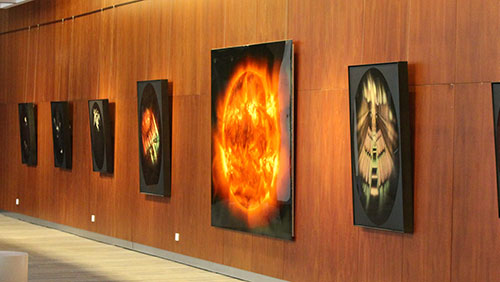 Wednesday 19 February 2014
CLICK HERE to view the photo gallery from the event opening >>
The Atrium Gallery at the High Commission looks fantastic now that Giles Alexander's inaugural Asian exhibition is showing.
The exhibition from the celebrated British/Australian artist, presented by Art Equity, will be on display until April 13.
"Bruno's Dream" explores the representation of the existential ideas of Bruno Giordano and the sublime imagery of faith and reason through the use of both cultural and scientific icons.
Exhibiting: 14th February - 13th April
8.30am - 4.30pm weekdays
(Closed on weekends & public holidays)
About the artist
Giles Alexander emigrated from England to Australia in 2000, enrolling at the National Art School in 2003. In 2005, he won the MCQ International art prize at the MCA and the Murray Sime prize for painting at the National Art School. The year after completing his degree, he won the 2007 Metro5 art prize in Melbourne and had the first of three solo exhibitions at Mori Gallery, Sydney. He has subsequently been a finalist in the Blake, Duke and Moran prizes, and was a finalist in the Archibald Prize in both 2010 and 2011. Alexander shows with Martin Browne Contemporary, Sydney and The Fine Art Society Contemporary, London.
Article updated 7 March 2014
Related links: