Australian presence strong at Food&HotelAsia (FHA) 2014

---

Tuesday 8 April 2014
The 19th edition of Food&HotelAsia (FHA) is taking place in Singapore from from 8–11 April 2014, with the Australian pavilion featuring 46 stands hosting around 135 suppliers, making it one of the largest national representations at the show.
In addition, there are about 16 independent Australian exhibitors outside the Australian pavilion, resulting in total Australian participation of 1,184 square metres and over 150 companies.
Singapore Cabinet Minister Mr S.Iswaran opened the expo and visited the Australian pavilion, where he was shown around by High Commissioner Philip Green and Senior Trade Commissioner Chris Rees, and met some of the participating Australian companies.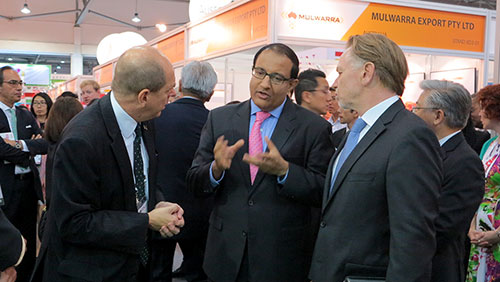 Singapore Minister S.Iswaran speaks to Senior Trade Commissioner Chris Rees (left) and High Commissioner Philip Green (right)
Much anticipated both locally and internationally, FHA brings to the market a myriad of food and hospitality products from around the world. FHA2014, taking place at the Singapore Expo, will witness an expansion of its exhibition area to 97,000sqm to serve an expected 45,000 trade visitors from over 90 countries/regions, presenting a formidable purchasing power to boost their businesses for the robust Asian market!

Some Australian stories from FHA2014...
Majella Wines
Brian Lynn from Majella Wines has participated in FHA since 1998 – the first FHA in Singapore. He finds this one of the best organised and attended food, wine and hospitality events in Asia, and keeps participating because Singapore is a strong market for Majella, and FHA is a meeting point of all his Asian customers.
Brian has sold many thousands of dollars worth of wine as a result of participating in FHA, and is confident he will be able to get some big orders before the 2014 show ends.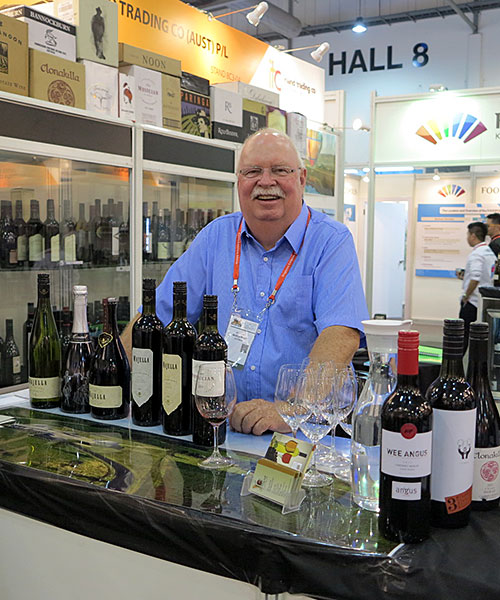 Brian Lynn at the Majella Wines stand
Food South Australia (Food SA)
Catherine Barnett (right) says a total of 12 companies are exhibiting under the FoodSA banner in 2014. For most of these companies, FHA2014 is the third time they've exhibited at this major food event.
FHA is a platform to launch new flavours of gelato, organic certified juices, freekeh from green grains, snack foods, wine, bread and baked goods, liquid cheese, dairy and tomato based sauces, and many other fine products. FoodSA exhibitors hope to meet new distributors and reinforce existing relationships at FHA2014.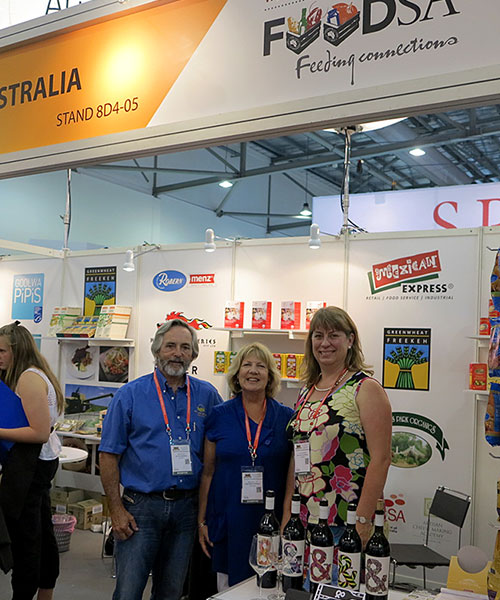 Food SA CEO Catherine Barnett (right) at the Food SA stand
Mulwarra Export Pte Ltd
Angus Winterflood's company, Mulwarra Export, is well established in the perishable food market, and has exhibited at each FHA since 1998.
According to Winterflood, FHA is where the action is for the food and beverage industry in Asia. Coming to FHA gives the company the opportunity to have valuable face-to-face with customers and distributors, reinforce existing relationships and make new ones.
Mulwarra Export is launching new products at FHA including lamb prosciutto and Australian pork. Full blood wagyu, lamb and beef are among products on display.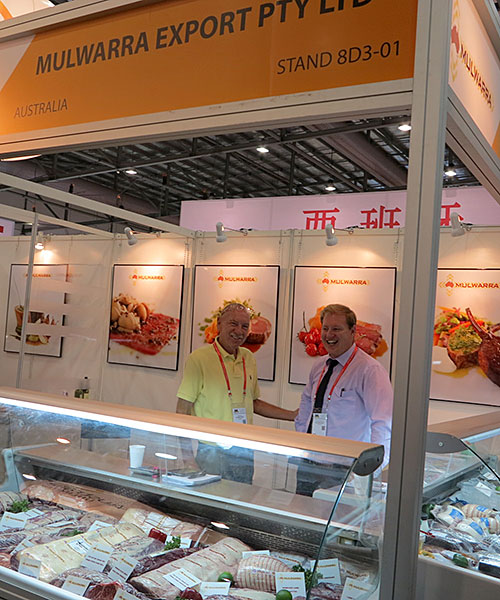 Angus Winterflood (right) at the Mulwarra Export stand
Western Australia
Western Australia is represented by 42 companies at Food & Hotel Asia 2014, led by Caroline Hine from the Department of Agriculture & Food, WA.
Singapore is a very important market as it's ideal in terms of proximity and time zone.
At the WA stand, there are new launches from rolled oats, muesli, avocado to Chapman River olive oil which won a silver medal in 2013 at the Perth Royal Show to honey.
Other WA companies represented include Jarrah Honey, Avocado Export Company, Azzura Gelati and exhibitors from the Southern Forests Food Council.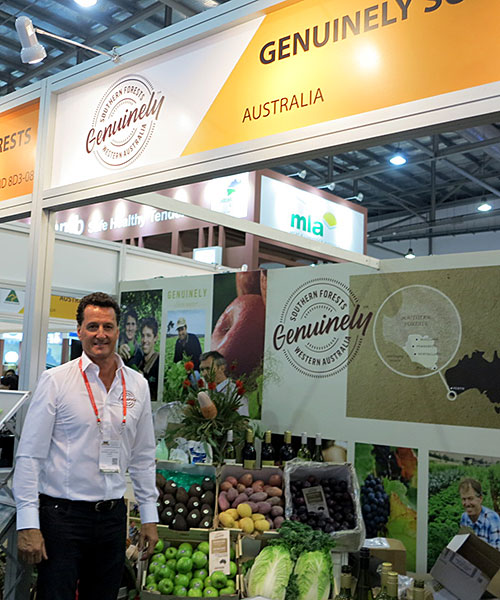 The 'Genuinely Southern Forests' stand
Gold Coast
Led by Darren Wilson, a Tradestart Adviser from the Gold Coast Queensland Government/Australian Trade Commission - the City of Gold Coast has a team of seven companies exhibiting at Food & Hotel Asia 2014 for the very first time.
From frozen yoghurt to organic products, gluten free tortillas, functional foods – these companies are capitalising on consumers who are now more health conscious. Bone Roasters, a new emerging company who is into stock and stock reduction, hopes to expand their business into Asia and the Middle East, using FHA 2014 as their springboard.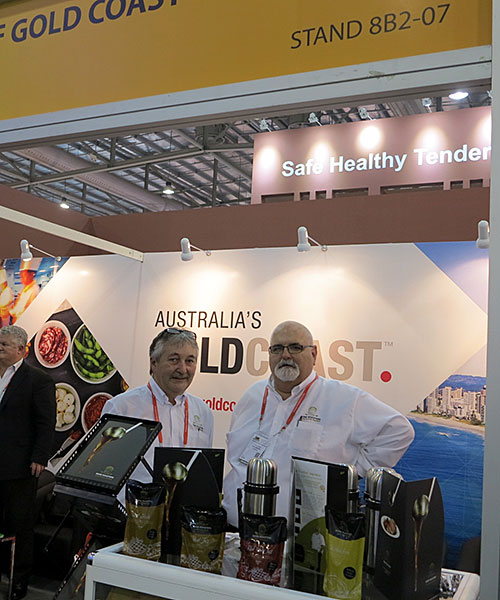 Exhibitors from Bone Roasters at the Gold Coast stand
Meat & Livestock Corporation
With the increasing interest of quality cuts of beef and lamb, the Meat & Livestock Corporation from Australia led a mission of 14 Australian companies to Singapore to participate at the Food & Hotel Asia 2014.
MLA has been participating in FHA 2014 since 1998 from one single booth to one that consists of 15 booths under the MLA banner, stamping their interest and commitment to the Asian market for beef and lamb. Today, they are showcasing their different and latest kinds of new cuts of meat with wagyu to satisfy the refined and discerning tastes of the Asian customers.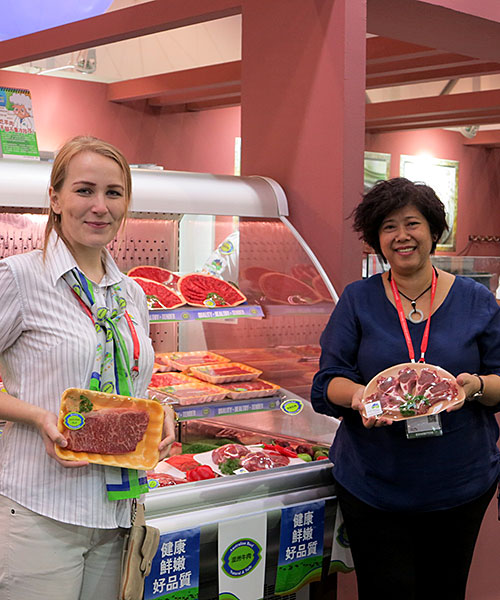 The Meat & Livestock Corporation stand at FHA2014
Victoria
Food is Victoria's largest aggregated export industry, valued at A$7.6 billion in 2012-13. Victoria is currently exporting safe, clean food to more than 100 countries in the major food sectors including dairy, confectionery, processed grains, horticulture, meat, wine, seafood and a range of organic foods.
Led by Mr Tim Dillon, Commissioner for Victoria to South East Asia, approximately 50 Victorian companies are exhibiting at Food & Hotel Asia 2014. 36 of these companies are clustered within the Victorian stand under their banner "put VICTORIA on your TABLE".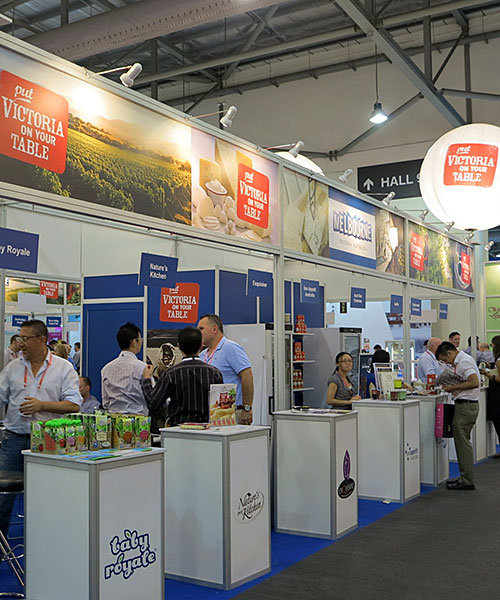 The 'Put Victoria on your table' section at FHA2014
Tru Blu Beverages
New South Wales company Tru Blue Beverages manufactures an extensive range of non-alcoholic, non-dairy beverages including soft drinks, sparkling mineral waters and energy drinks as well as alcoholic beverages such as Ready to Drinks (RTDs). Specialising in both branded products i.e. their own Tru Blu brand as well as contract-packed products.
Participating at Food & Hotel Asia 2014, Tru Blue Beverages is showcasing their range of beverages but more particularly:
GLEE – a 60% juice, carbonated water which is all natural.
CAPRI – a carbonated drink with organic juice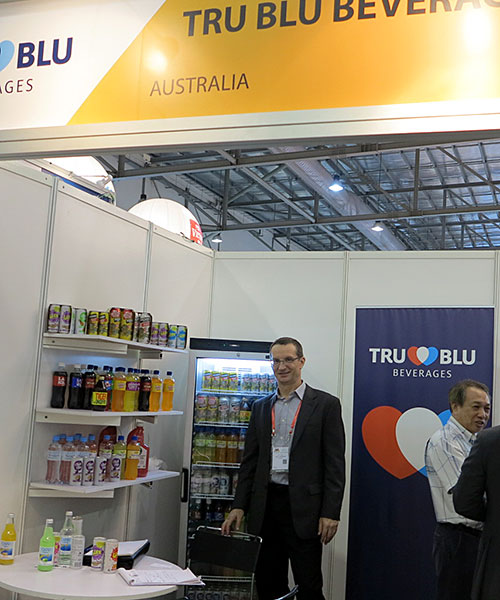 Darek Kosla from Tru Blu Beverages, at FHA2014